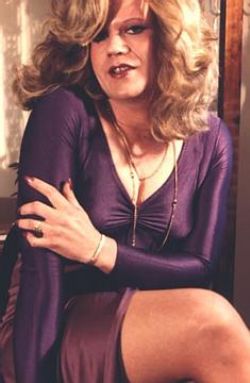 MEMBER PHOTO GALLERY
Candi Has No Photo Gallery
LIFESTYLE FETISHES
Anal Sex
Cock & Ball Teasing
Crossdressing
Cum Play
Degradation
Dildos/Vibrators
Domination/Submission
Facials
Feminization
Foot Fetish
Gangbangs
Golden Showers
High Heels
Kissing
Lingerie
Master/Slave
Masturbation
Oral Sex
Panty Fetish
Pantyhose/Stockings
Rimming
Role Playing
Shemales
Sissification
Spanking/Paddling
Strap-Ons
Transexuals
Transgenders
Transsexuals
Transvestites

It's not pretty being easy.
STANDARD MEMBER
I AM A: 40 year old Shemale, Transgender, Transexual, Crossdresser from Tampa, FL
SEEKING: Anything & Everything
WITH A: Shemale, Transvestite, Crossdresser, Transgender, Man
Active during the past 3 days
ABOUT ME
I love movies, fine dining, occasional clubbing, miniatures, laughing and loving. As much as I dislike lables they are the easiest way to identify us. I am a pre-op transexual woman with an ultra-feminine mind set and attitude. I have been refered to as sissy, wimpy, and wussy.
MY IDEAL PERSON
Strong, Masculine, Real men, with a sense of humor, sense of kindness. Other beautiful girls as well.
PERSONAL INFORMATION
| | | |
| --- | --- | --- |
| Gender: | Shemale, Transgender, Transexual, Crossdresser | |
| Sexual Orientation: | Gay | |
| Height: | 5 feet 09 inches | |
| Weight: | 201 to 210 lbs | |
| Race: | Caucasian | |
| Body Type: | Ample | |
| Hair Color: | Blond | |
| Hair Length: | Long | |
| Body Hair: | Shaved | |
| Facial Hair: | None | |
| Eye Color: | Blue | |
| Eye Correction: | Glasses | |
| Body Decorations: | Earrings | |
| Smoking Habits: | I Do Not Smoke | |
| Drinking Habits: | I Drink Socially | |
| Drug Habits: | I Do Not Do Illegal Drugs | |
| Marital Status: | Prefer Not To Say | |
| Occupation: | Arts/Entertainment/Publishing | |
| Education: | BS/BA Degree | |
| Political Views: | Liberal | |
| Religion: | Other | |
| Endowment: | Short | |
| Circumcised: | Yes | |
| Cup Size: | n/a | |
| Role Type: | Submissive | |